Denise Cobb, RN, Labor & Delivery
Denise has been attending birth in the hospital for over 18 years. A single mom by choice, Denise does things her own way and isn't afraid to tell it like it is. When she was in nursing school a classmate decided she wasn't going to the hospital when it was time to deliver her baby. That experience became Denise's introduction to home birth.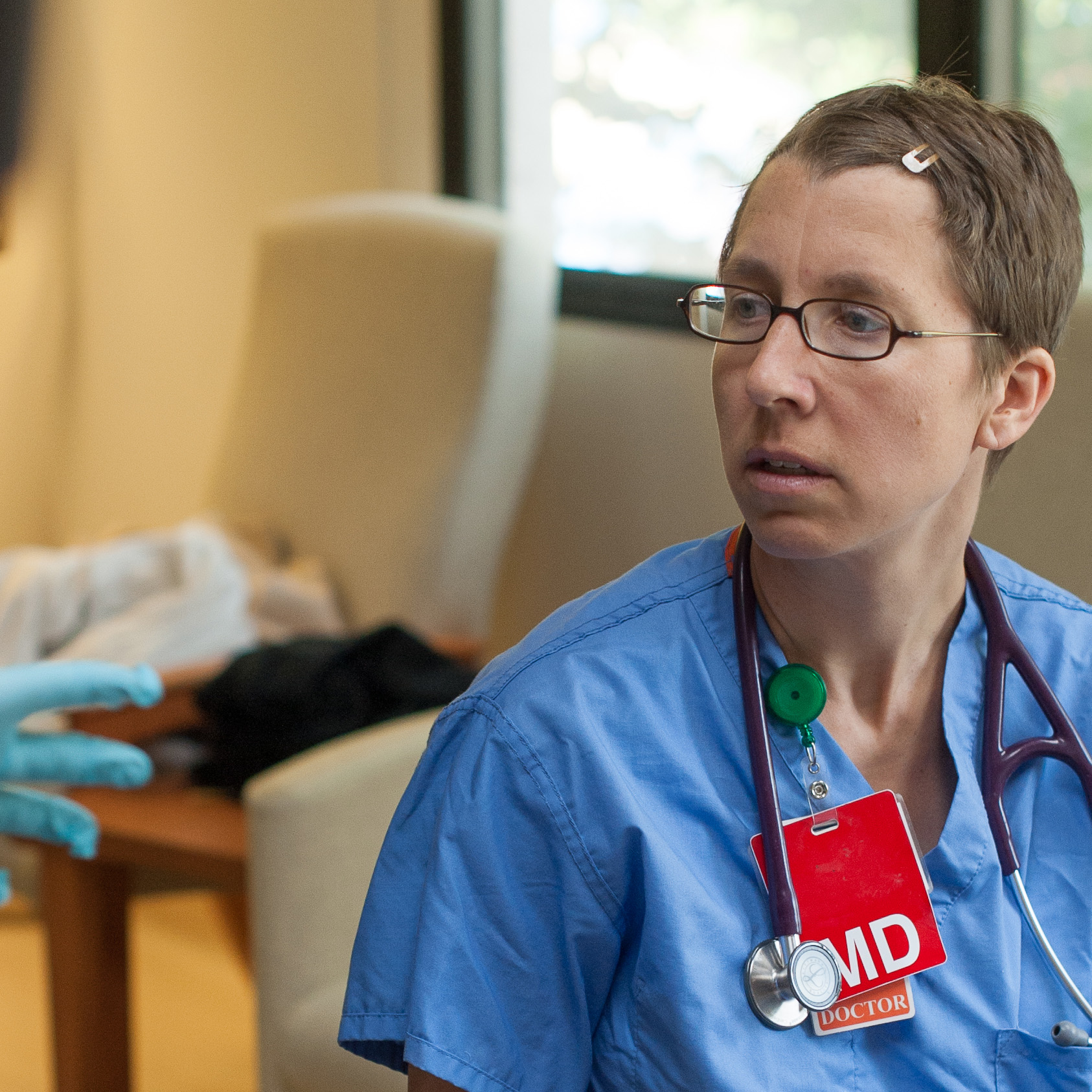 Michelle Minikel, MD, Family Practice and Obstetrics
Michelle thought home birth was crazy--until she got pregnant. Her training taught her that home birth wasn't appropriate for anybody. Keeping her home birth plans a secret from her own parents (one of whom is also a physician) the first time around, Michelle allows us to journey with her during her second pregnancy, but this time it isn't quite as straightforward as the first.
Robyn Lamar, MD, Obstetrics & Gynecology
Robyn isn't your average OB/GYN. The daughter of a pediatrician, she witnessed the home birth of her younger sister when she was 5 years old. That experience stayed with her in a powerful way. Though she attends birth in the hospital, including cesarean deliveries, for her own births, she knew she wanted midwifery care at home.
Grace Hochstoeger, FNP,Family Practice
Grace had seen birth in the hospital as a nurse and wasn't crazy about the thought of that experience for herself. Her husband, Mike however was pretty confident that the hospital was the best place to have a baby. Less than 2 months from her due date, Mike became convinced that maybe Grace was right and they didn't need to go to the hospital. They found a midwife who supported them at home and Mike became a home birth advocate. Now pregnant with her second, we share what will be a transformational experience with both Grace and Mike.
Alexandra Johnson, MD, Family Practice and Obstetrics
Alexandra loves maternity care so much she did an additional fellowship so that she could attend not only low risk pregnancies, but could also perform c-sections if needed. Still, for her own births, she chose midwifery care at home. It wasn't until her son experienced some distress following birth that she experienced the dysfunctional side of home to hospital transfer. Learn how that experience has shaped her practice and her outlook on maternity care.
Tanashia Huff, RN,Labor and Delivery, Student Midwife
Tanashia's whole reason for going to nursing school was to become a midwife. As a labor and delivery nurse she was familiar with the standard hospital delivery, and with her first two children that's just what she got. She felt like she had missed something, so with her third daughter she decided to seek out a licensed midwife who could attend her at home. Despite criticism and questions from her colleagues, she followed through with her plans and had, "the best experience." See how Tanashia hopes to expand the diversity of women currently seeking home birth services.
Heidi Hartsough, RN, Labor and Delivery
Heidi's first experiences with birth were as a Peace Corps volunteer in Togo, West Africa--it was a far cry from the high risk hospital in San Francisco where she currently attends women. Both of these experiences strengthened her belief that birth happens in all kinds of places and informed her personal decision about place of birth.
LeAnn James, CNM
LeAnn has attended women in hospitals for over 30 years. She has seen a lot change in that time. She loves her work and wouldn't want to practice any other way. Still, when it was time to have her own children, she planned to have them at home.
Nancy Myrick, CNM & Ami Burnham, LM, Rites of Passage Midwifery​​
Nancy and Ami have a home birth practice together in San Francisco. They also happened to attended Robyn and Heidi's births. With different training backgrounds and complementary practice styles, they instantly became a powerful duo. Ami is expecting her first baby and is not surprisingly, planning a home birth. She knows that things don't always go as planned in birth, but even she is surprised by the outcome of her birth.